I love working on creative designs. The bigger the project, the more scope for playful composition. There is a place for each line, each interesting handle or inlay that seemed to have been waiting for me to place it. Almost like a piece of music writing itself in the mind of the song writer.
Kitchens are a favourite of mine when designing. Obviously all the practical boxes need to be ticked, as far as functionality goes, and all the components need to be in the right place for creating meals and entertaining, but the thing that I enjoy most, and what makes my kitchens unique, is that after a meal the kitchen returns to being a beautiful object to admire. It is more than the heart of the house; it gives the home a soul.
On this page you will see some of the kitchens I have designed and crafted.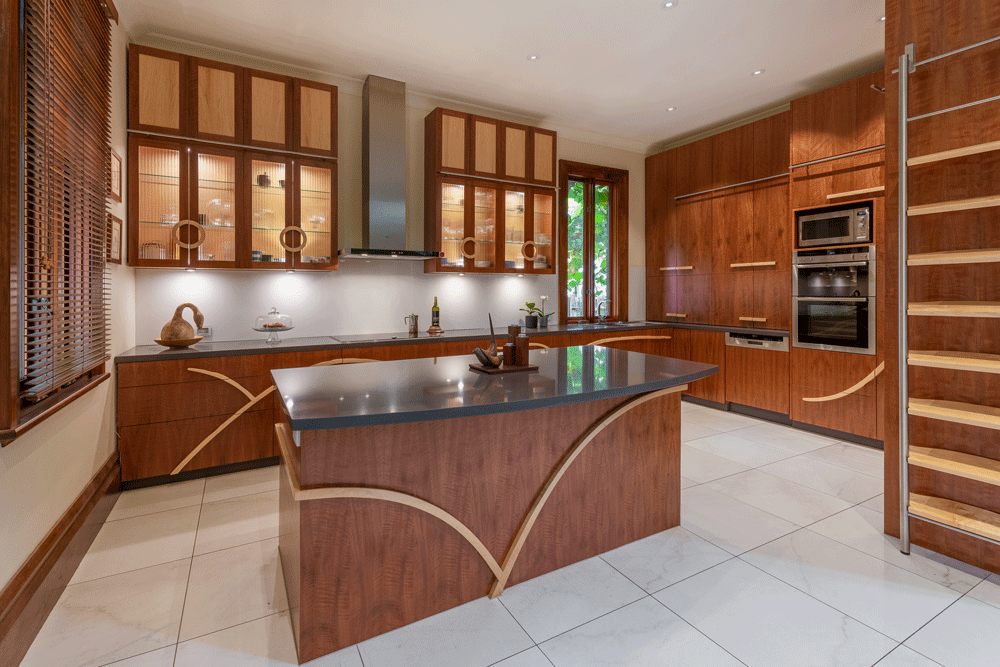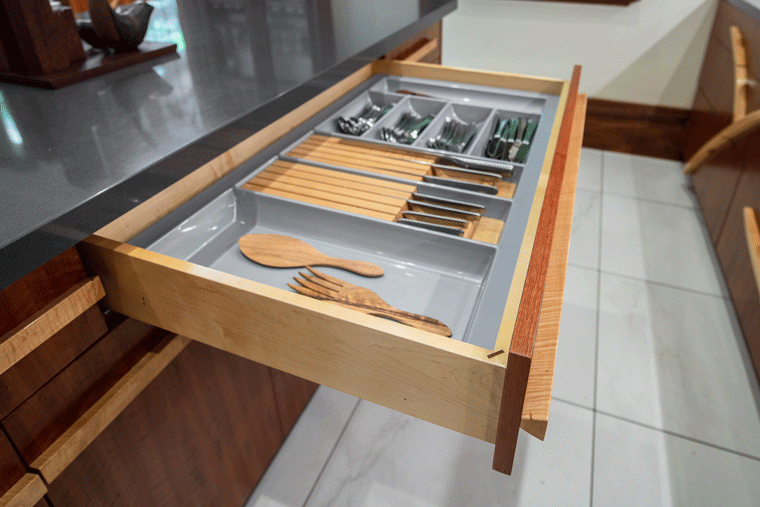 "I am really passionate about timber, so when it was time to renovate our kitchen and living areas, I spent a lot of time looking for someone I could trust with the design and who had a good feeling for working with wood.
There are a lot of good craftsmen around Melbourne, but none seemed to have the design flair I was searching for.  Then, looking at an old magazine in a doctors waiting room (and aren't they all old?) I saw a kitchen built by Zeb Walker.
It took some searching, but I did find Zeb, gave him a brief outline and left him to it.  We now have an amazing kitchen, bookcase, fireplace over-mantle, and various other pieces; stools, tables, coffee tables, and media cupboard.

Zeb did the designs, built and installed everything.  Not only are the designs breathtaking, they are subtly carried through each piece and even better it all works in a very practical way.

Such great designs, implementations, practicality, on time and within budget."
– Bryan Bussell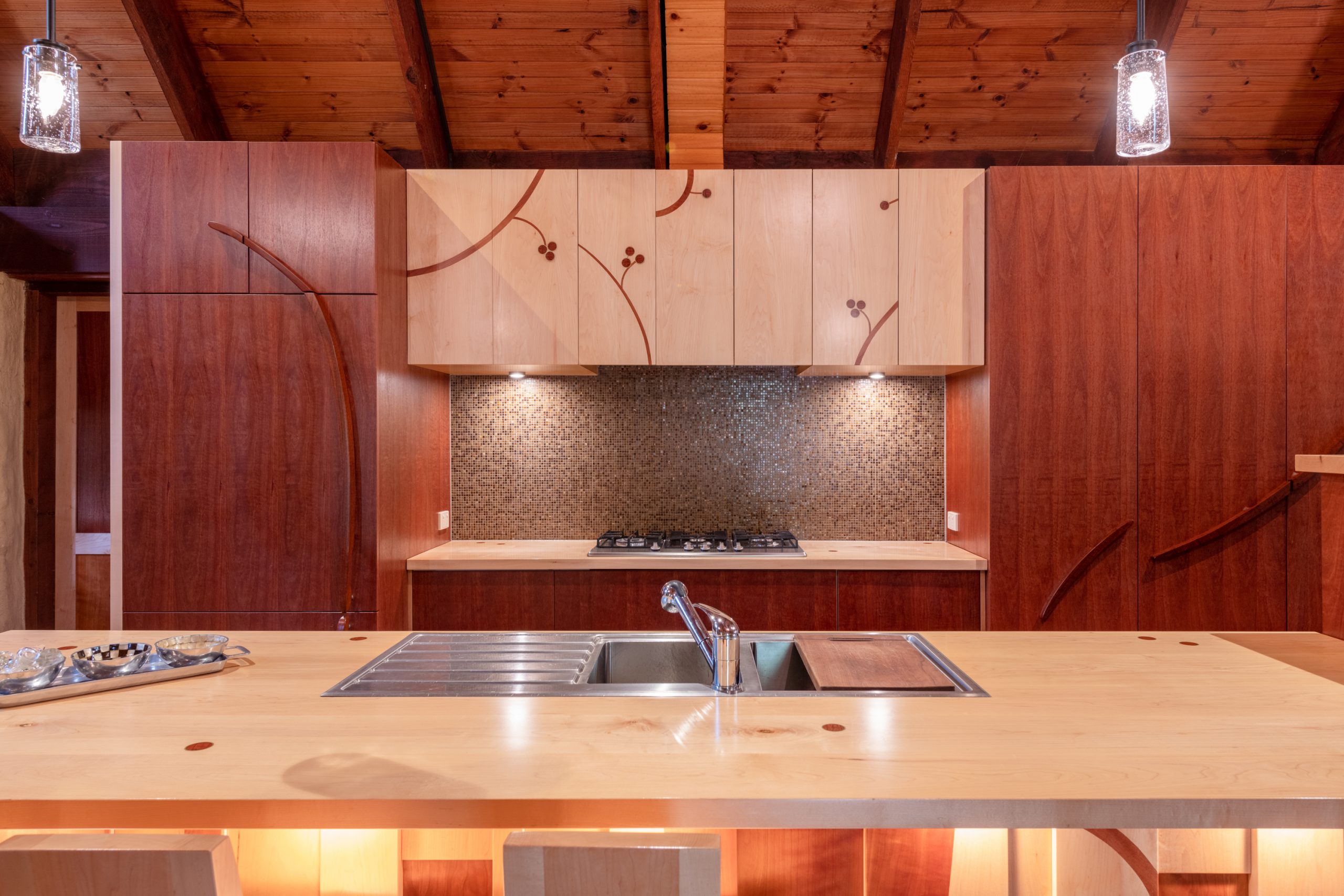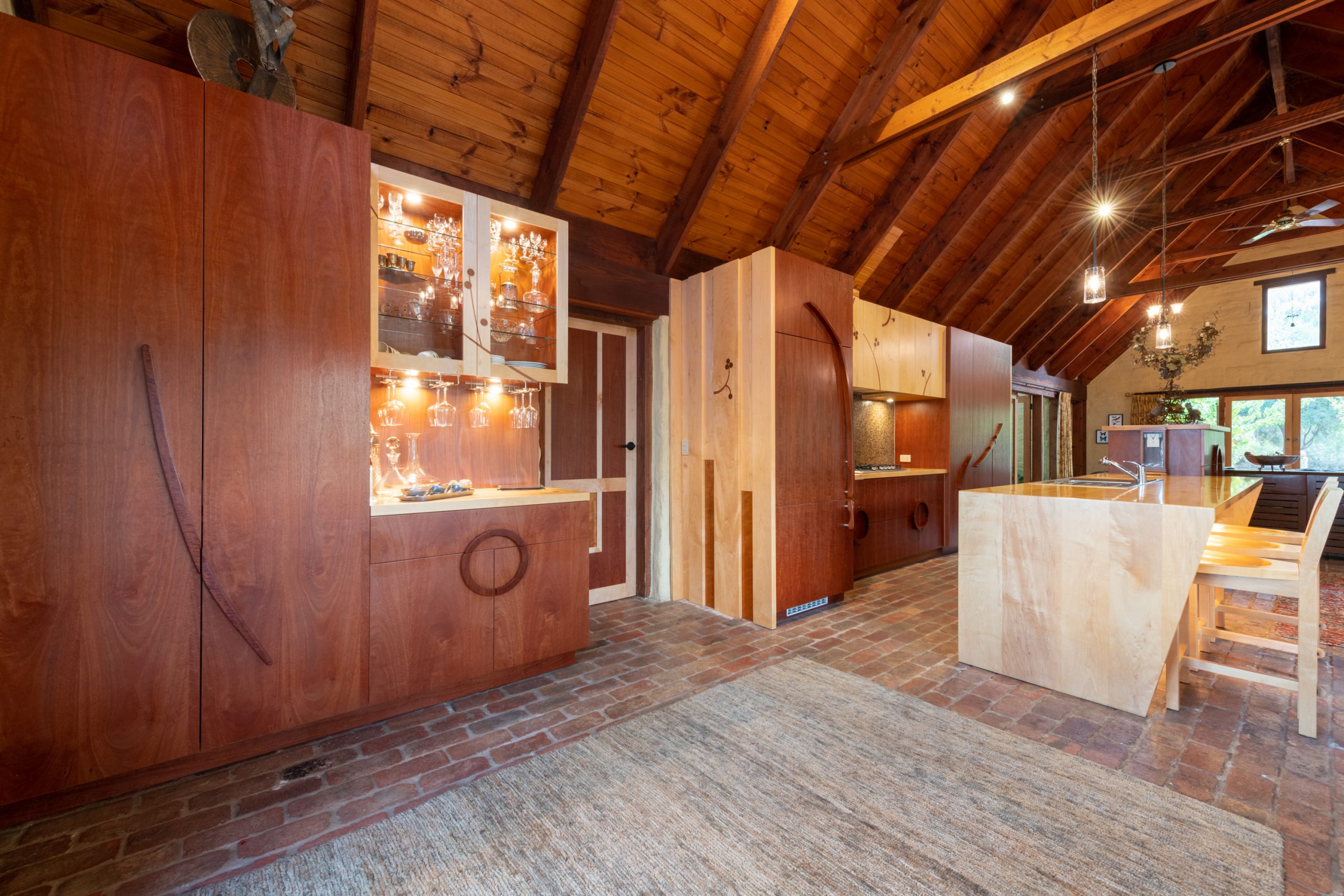 "Many years ago we purchased some wonderful bespoke pieces of furniture from Zeb Walker and we still enjoy their beauty today. We had wanted to change our kitchen for some time but we could not find that right balance between aesthetic and functionality.

After giving up on the magazines and kitchen show rooms we decided we loved the pieces that Zeb had made so we gave him a call. Wow, I am so pleased that we did. The outcome is amazing.  Unlike any kitchen from a magazine, it achieved the balance we sought and then some.

The process was a joy.  Zeb took measurements, listened to what we needed, went away and came back with drawings. We loved the design, he went away and created our kitchen off site and installed it in two stages which hardly interfered at all with our lives.

It is now two years since we installed our Kitchen and we are now in the process of engaging Zeb to renovate a bathroom, stairwell and wardrobe.  The plans look fantastic."

-Gwen Ryan